The PCT Café is a full-service coffee shop featuring espresso drinks, freshly baked treats from Kitchen Chemistry, and the best popcorn in the Poconos topped with real butter! Relax in our cozy café before your show with a hand-crafted drink, tasty treat, or a magazine or book from our custom-made book shelf and PCT Library.

Our café provides plenty of seating and tables. Relax and enjoy!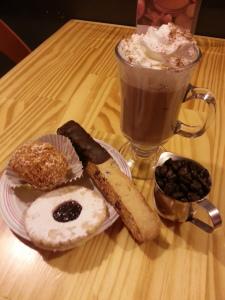 Sip on a hand-made hot latte or treat from local bakeries.

Take a book, leave a book. Browse at your leisure. Check the shelf for monthly Book Club updates.

During the warmer months, relax with your café drink outdoors
| | | |
| --- | --- | --- |
| Drinks | Small | Large |
| Coffee | $2.00 | $2.25 |
| Tea | $2.00 | $2.25 |
| Latte | $3.65 | $4.15 |
| Mocha | $3.95 | $4.25 |
| Espresso | $2.25 | $2.55 |
| Americano | $2.55 | $2.95 |
| Chai | $3.25 | $3.75 |
| Hot Cocoa | $2.85 | $3.15 |
Specialty Drinks

Small

Large

Leonardo Cappuccino
Frother steamed milk and espresso

$3.65
$4.15
Latte Meryl
Cinnamon and honey steamed to perfection and poured over espresso
$3.95
$4.25

Del Toro Cocoa
Cinnamon and vanilla infused hot cocoa


$3.15
$3.35

Audrey Hepburn
Steamed milk and coffee

$2.55
$2.95
Grace Kelly
Milk steamed with your choice of flavoring
$2.85
$3.15
The Soprano
Italian Soda
$1.95
$3.15